Our History | Music of Past Seasons | Our Members
Our History
Founded in 1995, Just In Time Composers and Players is a musicians' collaborative dedicated to demystifying contemporary classical music and to the cultivating close collaborations between composer and performer. The group is "post modern", with a variety of styles and tonal palettes. The group encourages composers to get to know performers and write for their individual playing styles.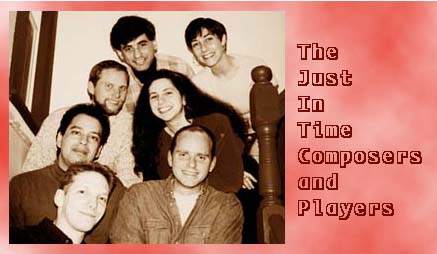 During its first concert season in 1995-96, the group presented several concerts (see the programs on the Past Seasons page) of works by member as well as several guest composers, including Lee Hyla (NEC), David Patterson (Umass/Boston), Vuk Kulenovic (a Bosnian composer), and Hayg Boyadjian (a French-Armenian composer who soon joined JIT as a member).
In 1997, a new member search was conducted for composers and players. In 1998, the group reformed with both original and new members. In 1999, more composers joined the group and in 2000 there was search for players to fill out the instrumentation (see Our Members).
In the 1999-2000 season, JIT continued the basic 3-concert season at Boston Conservatory's Seully Hall, and we expanded to the greater Boston area. Each concert was repeated in a suburban hall. By spreading out geographically, we hope to bring our newest music to more people -- people who do not usually hear new music or who do not like to go to Boston. We presented opera excerpts, piano sonatas, songs, and other chamber music. The Really Eclectic String Quartet, an improvising ensemble, were guest performers.
In the 2000-01 season, we moved our basic 3-concert season to Follen Church in Lexington, a well-known concert venue with renowned acoustics. The concerts were repeated at Eliot Church, a charming, 17th-century hall in Natick.
In 2001-02 our audience followed the development of operas-in-progress by Marshall and Sarkissian, heard the jazz and Indian-influenced music of Rossi, was in on the premiere of a new trio for violin, cello, and piano by James, and heard solos and duos for winds and strings by Foin, Grossmann, and Boyadjian.
The 2002-03 season explored our connections with our community and the world. In November, the Children's Corner program brought our students onstage to play music written just for them. We presented the Arden String Quartet in February with several premieres. In April we had a varied program of chamber music that included guitar, plus several JIT players.
At present, the composer-members assume the jobs involved in running the organization, such as planning programs, booking a concert halls, getting the word out, and producing printed materials. Concerts are funded by composer dues, ticket sales, advertising, and donations. JIT's costs include fees for players, renting halls, mailing, and recording. We run on a tight budget and appreciate donations of money or other contributions. In 2003 Just in Time became incorporated and now runs as a non-profit organization. Therefore, all donations and contributions by donors and patrons are tax-deductible within their legal limits.
We're looking forward to our next exciting season in 2003-2004.
We hope you will join us for another season of heartfelt, entertaining music -- from composer to performer to you.